EDIT MAIN
Welcome to Grassy Creek Elementary, home of the Prospectors. I am honored to serve as your principal and Lead Prospector. Here at Grassy Creek, we pride ourselves in maintaining a safe, welcoming environment and having high expectations of success for all students. We promote a safe and orderly environment through these 4 behavioral expectations (CORE): Civility, Order, Respect, and Excellence. Our high expectations for success of all students is evident by our school being designated an A school by the state of Indiana multiple years in a row!
The staff and I invite you to become an active part of our school community by participating in our PTA; volunteering in your child's school; partaking in the many exciting before and after school events; and supporting your child socially, emotionally, and academically.
We hope you enjoy learning more about our school. Don't forget to check us out on social media. Thank you for sharing your children with us!
Your Principal,
Mrs. Christy Merchant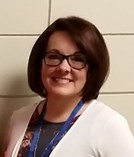 "Education is the most powerful weapon we can use to change the world." ~Nelson Mandela